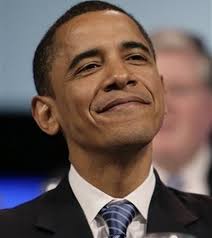 During the campaign, Democratic presidential candidate Obama promised an
"unshakable commitment"
to Israel if he is elected. However, he has remained silent during the current conflict between Israel and the terrorist organization Hamas. He does not want to "send confusing signals." The Bush administration is supporting Israels right to self defense. If Obama would do the same, there would not be any "confusing signals."
ANALYSIS-Politics, diplomacy behind Obama's Gaza silence


Sun Jan 4, 2009 2:01pm EST
By Deborah Charles

WASHINGTON, Jan 4 (Reuters) - Even as Israelis and Palestinians plunged deeper into conflict, U.S. President-elect Barack Obama remained silent, refusing to budge from his one-president-at-a-time mantra.

Obama takes office on Jan. 20 but has not commented on the Middle East crisis since Israel launched attacks on Gaza nine days ago. His advisers insist that only President George W. Bush can speak for America until then.

The Palestinian death toll in nine days of Israeli attacks has risen to more than 500. Hamas, which ended a six-month ceasefire, has fired rockets deeper into Israel than ever before, hitting major cities and killing four Israelis.

While most prominent U.S. politicians have backed Israel, critics have noted that Obama joined Bush in condemning the killing of civilians in attacks in November in Mumbai, India. They would have liked him to say something about the fate of Palestinian civilians caught in the fighting.

The president-elect also has commented on the global economic crisis and his plans to try to pull the U.S. economy out of recession.

Asked about the apparent contradiction, an Obama transition aide who asked not to be named said on Sunday: "President Bush is our nation's president until Jan. 20, and he is responsible for our nation's diplomacy with the world.

"During this transition period, we are not engaging in any action that could send confusing signals to the world about who speaks on behalf of the United States." Link here.