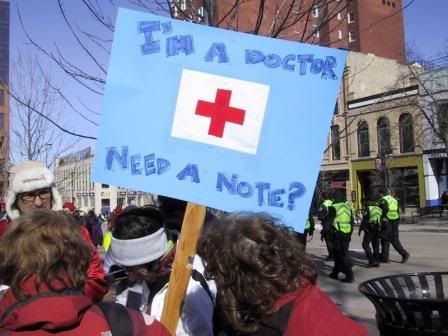 During the collective bargaining law battle in Wisconsin, we had protesters taking over the Capitol, demo Senators fleeing the state and
quack physicians
handing out "doctors notes" to keep teaches who participated in the "sick outs" out of trouble. Eight of the quack physicians may be in trouble.
(WisPolitics) — The Department of Regulation and Licensing (DRL) and the Medical Examining Board (MEB) have opened investigations involving eight individuals who allegedly wrote medical excuses for individuals attending rallies at the Capitol in February.

Based on information provided by various complainants, DRL identified 11 people who were asked to provide an explanation to the department about their activities at the Capitol. Based on the complaints and the information received by DRL, a screening panel consisting of three members of the MEB has decided to open investigations on eight individuals. Investigations were not opened as to the other three individuals because the panel concluded no violations had occurred.

A more extensive fact-finding process will now occur on the cases which have been opened to determine if any violations of law occurred.